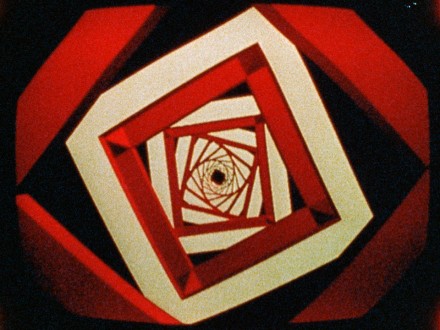 Euclidean Illusions
16mm, color, sound, 9 min
Not available, under preservation
Rental format: 16mm
$100.00
About
Not available, under preservation
A fantasy film of illusive geometry, changing and rebuilding itself by computer animation, unique visual magic done while artist-in-residence at NASA in Houston in conjunction with Richard Weinberg.
Programs
See More

New Year New Work 2019

Four screenings in January 2019 that showcase the wide-ranging work of new and longstanding FMC members from around the world. Curated by Emily Apter, Ladya Cheryl, and Devon Narine-Singh.
Films
Other films by this artist in our catalogue

Read More

Transforms
Stan Vanderbeek

16mm, black and white, sound, 3 min

Rental format: 16mm

Read More

Yet
Stan Vanderbeek

16mm, black and white, sound, 2 min

Rental format: 16mm

Read More

A La Mode
Stan Vanderbeek

16mm, color, sound, 10 min

Rental format: 16mm

Read More

Alamo01
Stan Vanderbeek

16mm, color, sound, 10 min

Rental format: 16mm

Read More

Astral Man
Stan Vanderbeek

16mm, color, sound, 2 min

Rental format: 16mm

Philosophical
Spiritual / Mystical

Read More

What, Who, How
Stan Vanderbeek

16mm, black and white, sound, 8 min

Rental format: 16mm

Read More

Wheeeeels No. 1
Stan Vanderbeek

16mm, black and white, sound, 5 min

Rental format: 16mm

Read More

Achoo Mr. Keroochev
Stan Vanderbeek

16mm, black and white, sound, 2 min

Rental format: 16mm

Political / Social Activism

Read More

Dance of the Looney Spoons
Stan Vanderbeek

16mm, black and white, sound, 5 min

Rental format: 16mm

Read More

Mankinda
Stan Vanderbeek

16mm, black and white, sound, 10 min

Rental format: 16mm

Read More

Science Friction
Stan Vanderbeek

16mm, color, sound, 9 min

Rental format: 16mm

Science / Medicine
Political / Social Activism
Comedy
Appropriation / Detournement

Read More

Wheeeeels No. 2
Stan Vanderbeek

16mm, black and white, sound, 4 min

Rental format: 16mm

Read More

Visibles
Stan Vanderbeek

color and b/w, sound, 73 min

Rental format: DVD PAL

Read More

Blacks & Whites, Days & Nights
Stan Vanderbeek

16mm, black and white, sound, 5 min

Rental format: 16mm

Read More

Skullduggery
Stan Vanderbeek

16mm, black and white, sound, 5 min

Rental format: 16mm

Found Footage
Hand-Processed
Appropriation / Detournement

Read More

Snapshots of the City
Stan Vanderbeek

16mm, black and white, sound, 5 min

Rental format: 16mm

Political / Social Activism
Arts / Artists

Read More

Summit
Stan Vanderbeek

16mm, color and b/w, sound, 12 min

Rental format: 16mm

Read More

Newsreel of Dreams No. 1
Stan Vanderbeek

16mm, color, sound, 8 min

Rental format: 16mm

Read More

Breathdeath
Stan Vanderbeek

16mm, black and white, sound, 15 min

Rental format: 16mm

Philosophical
Found Footage
Comedy

Read More

The Human Face is a Monument
Stan Vanderbeek

16mm, black and white, sound, 9.5 min

Rental format: 16mm

Body
History
Ethnographic
Found Footage

Read More

See, Saw, Seems
Stan Vanderbeek

16mm, black and white, sound, 10 min

Rental format: 16mm

Psychology / Mental Health

Read More

Phenomenon No. 1
Stan Vanderbeek

16mm, black and white, silent, 7 min

Rental format: 16mm

Psychology / Mental Health

Read More

Poem Field No. 1
Stan Vanderbeek

16mm, color, sound, 4 min

Rental format: 16mm

Read More

The History of Motion in Motion
Stan Vanderbeek

16mm, black and white, sound, 10 min

Rental format: 16mm

History
Films About Film
Found Footage

Read More

Poem Field No. 2
Stan Vanderbeek

16mm, color, sound, 6 min

Rental format: 16mm

Read More

Poem Field No. 7
Stan Vanderbeek

16mm, color, sound, 4 min

Rental format: 16mm

Read More

Man And His World
Stan Vanderbeek

16mm, color, sound, 1 min

Rental format: 16mm

Read More

Panels for the Walls of the World
Stan Vanderbeek

16mm, black and white, sound, 8 min

Rental format: 16mm

Technology
Ethnographic
Found Footage

Read More

Poem Field No. 5: Free Fall
Stan Vanderbeek

16mm, color, sound, 7 min

Rental format: 16mm

Read More

Spherical Space No. 1
Stan Vanderbeek

16mm, color, sound, 5 min

Rental format: 16mm

Read More

T. V. Interview
Stan Vanderbeek

16mm, black and white, sound, 13 min

Rental format: 16mm

Read More

Vanderbeekiana
Stan Vanderbeek

16mm, color and b/w, sound, 29 min

Rental format: 16mm

Read More

Oh
Stan Vanderbeek

16mm, color, sound, 10 min

Rental format: 16mm

Psychology / Mental Health

Read More

Super-Imposition
Stan Vanderbeek

16mm, black and white, sound, 17 min

Rental format: 16mm

Read More

Will
Stan Vanderbeek

16mm, color, sound, 5 min

Rental format: 16mm

Read More

Newsreel of Dreams No. 2
Stan Vanderbeek

16mm, color, sound, 8 min

Rental format: 16mm

Read More

Videospace
Stan Vanderbeek

16mm, color, sound, 7 min

Rental format: 16mm

Read More

Film Form No. 1
Stan Vanderbeek

16mm, color, sound, 10 min

Rental format: 16mm

Read More

Found Film No. 1
Stan Vanderbeek

16mm, black and white, sound, 6 min

Rental format: 16mm

Political / Social Activism

Read More

Computer Generation
Stan Vanderbeek

16mm, color and b/w, sound, 29 min

Rental format: 16mm

Read More

Who Ho Ray No. 1
Stan Vanderbeek

16mm, color, silent, 8 min

Rental format: 16mm

Read More

You Do, I Do, We Do
Stan Vanderbeek

16mm, color, sound, 14 min

Rental format: 16mm

Read More

Symmetricks
Stan Vanderbeek

16mm, black and white, sound, 7 min

Rental format: 16mm