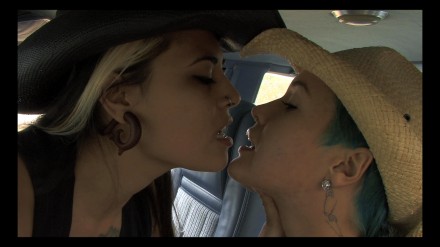 Post Apocalyptic Cowgirls
digital file, color, sound, 60 min
Raunchy fun down on the ranch. Post Apocalyptic Cowgirls is hot, nasty and horny as hell. –Lydia Lunch
About
Raunchy fun down on the ranch. Post Apocalyptic Cowgirls is hot, nasty and horny as hell. –Lydia Lunch
After the Third World War and global warming have transformed the planet into a desert, what remains? Two post-apocalyptic cowgirls in leather and Stetsons!
A delicious submissive hitchhikes on a bleak Arizona highway. A car stops. A tough exotic amazon with a gun and boots invites her into the car. The chemistry between these two sexy, dangerous lesbian chicks is gonna make you hotter than the desert sun.
They spank, fist-fuck, lick and play with boots, guns, snakes, and cacti in the dust. Their sex is a dripping wet oasis from the heat!
Films
Other films by this artist in our catalogue

Read More

Gang Of Souls
Maria Beatty

Digital File, color, sound, 60 min

Arts / Artists
Literarature / Theater
Spiritual / Mystical

Read More

Sphinxes Without Secrets
Maria Beatty

Digital File, color and b/w, sound, 58 min

Erotic
Arts / Artists
Dance
LGBT / Queer

Read More

The Sluts and Goddesses Video Workshop or How to be a Goddess in 101 Easy Steps
Maria Beatty

VHS, color, sound, 52 min

Rental format: VHS NTSC

Read More

Imaging Her Erotics: Carolee Schneemann
Maria Beatty

VHS, color, sound, 5 min

Rental format: VHS NTSC

Read More

The Elegant Spanking
Maria Beatty

Digital, black and white, sound, 30 min

Read More

The Black Glove
Maria Beatty

Digital File, black and white, sound, 30 min

Read More

Ladies of the Night "Les Vampyres"
Maria Beatty

Digital File, black and white, sound, 32 min

Read More

The Seven Deadly Sins
Maria Beatty

digital , color, sound, 52 min

Read More

Ecstasy In Berlin
Maria Beatty

Digital File, color and b/w, sound, 45 min

Read More

Belle De Nature
Maria Beatty

Digital, color, sound, 11 min

Body
Erotic
Environment / Nature

Read More

FEED The Last Supper
Maria Beatty

Digital File, color, sound, 72 min

Rental format: Digital file

Read More

Spit And Ashes
Maria Beatty

Digital File, black and white, sound, 72 min

Body
Erotic
Environment / Nature
Spiritual / Mystical
LGBT / Queer