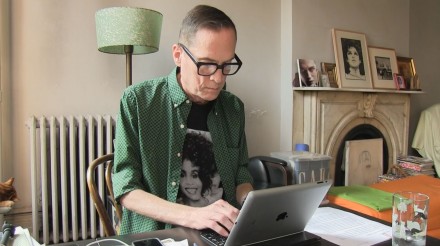 A portrait of New York author Joe Westmoreland. Joe is reading from his short story "Sweet
Rental format: Digital file
Available for sale: Digital file
About
A portrait of New York author Joe Westmoreland. Joe is reading from his short story "Sweet
Baby Joe." We shot this video in 2014 in Joe's Chelsea loft; recorded the reading in 2016 and
finished editing in 2018. I am grateful to Joe for his patience.
Programs
See More

New Year/New Work 2019

A four-day program of recent additions to our growing collection of experimental and avant-garde films

Four screenings in January 2019 that showcase the wide-ranging work of new and longstanding FMC members from around the world. Curated by Emily Apter, Ladya Cheryl, and Devon Narine-Singh.
Films
Other films by this artist in our catalogue

Read More

Gay Tape: Butch and Femme,
Cecilia Dougherty

27 min

Rental format: Digital file

Read More

Claudia
Cecilia Dougherty

3/4 inch video, color, sound, 7.5 min

Rental format: Digital file

Body
Erotic
Political / Social Activism

Read More

Grapefruit
Cecilia Dougherty

3/4 inch video, color, sound, 39 min

Rental format: Digital file

History
Arts / Artists
Biography / Autobiography

Read More

Coal Miner's Granddaughter
Cecilia Dougherty

Pixel , color, sound, 80 min

Rental format: Digital file

Philosophical
Films About Film
Biography / Autobiography
Personal / Diary / Journal

Read More

The Drama of the Gifted Child
Cecilia Dougherty

Hi8, color, sound, 5 min

Rental format: Digital file

Psychology / Mental Health
Erotic
Literarature / Theater

Read More

Joe-Joe
Cecilia Dougherty

Pixel , color, sound, 53 min

Rental format: Digital file

Erotic
Arts / Artists
LGBT / Queer

Read More

My Failure to Assimilate
Cecilia Dougherty

MiniDV, color, sound, 20 min

Rental format: Digital file

Environment / Nature
Arts / Artists
Ethnographic

Read More

My Failure to Assimilate
Cecilia Dougherty

20 min

Rental format: Digital file

Read More

The Dream and The Waking
Cecilia Dougherty

MiniDV, color, sound, 15 min

Rental format: Digital file

Arts / Artists
Personal / Diary / Journal

Read More

Laurie
Cecilia Dougherty

MiniDV, color, sound, 11 min

Rental format: Digital file

Arts / Artists
Biography / Autobiography

Read More

Leslie
Cecilia Dougherty

MiniDV, color, sound, 11 min

Rental format: Digital file

Biography / Autobiography

Read More

Writer Series
Cecilia Dougherty

48 min

Rental format: Digital file

Read More

Eileen
Cecilia Dougherty

MiniDV, color, sound, 10 min

Rental format: Digital file

Biography / Autobiography
Found Footage

Read More

Gone
Cecilia Dougherty

36 min

Read More

Kevin & Cedar
Cecilia Dougherty

digital file, 8 min

Rental format: Digital file

Read More

Supertasking
Cecilia Dougherty

30 min

Rental format: Digital file

Read More

The Third Space
Cecilia Dougherty

27 min

Rental format: Digital file

Read More

Tetragammaton
Cecilia Dougherty

23 min

Rental format: Digital file

Read More

The Scenography
Cecilia Dougherty

26 min

Rental format: Digital file

Read More

The Fourth Space
Cecilia Dougherty

30 min

Rental format: Digital file

Read More

Occupy Wall Street Redux,
Cecilia Dougherty

silent, 14 min

Rental format: Digital file

Read More

In A Station, Petals
Cecilia Dougherty

13 min

Rental format: Digital file

Read More

The Apartment
Cecilia Dougherty

silent, 6 min

Rental format: Digital file