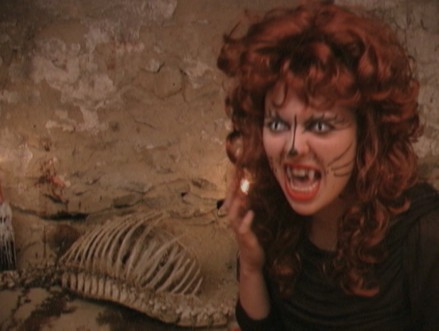 Psycho Pussy Slaughter
color, sound, 10 min
The Egyptian Goddess Sekhmet is brought back from her long slumber on the wine of the Nile. She is defeated, shortly after sacrificing several felines and females in her bloody revenant rituals.
Rental format: DVD NTSC
Programs
See More

Femme Fantastic

The Carnal Screen

These films undo the socio-political bindings that repress images of sexuality into profitable commodities. The body, sex, and intimacy are not idealized or trapped in patriarchal, aesthetic fantasies.
Films
Other films by this artist in our catalogue

Read More

Dub Doll
Katherine Bauer

black and white, silent, 4 min

Rental format: 16mm

Read More

Ichor
Katherine Bauer

color, silent, 3 min

Rental format: 16mm

Read More

Crystallus: Discontinuity and Nucleation Phases
Katherine Bauer

color and b/w, silent, 12 min

Rental format: 16mm

Read More

Vanitas
Katherine Bauer

color, silent, 3 min

Rental format: 16mm

Read More

Circa I
Katherine Bauer

color, silent and sound, 7 min

Rental format: 16mm

Erotic

Hand-Processed

Spiritual / Mystical

Read More

Invocation (Circa II)
Katherine Bauer

color, silent, 3 min

Rental format: 16mm

Read More

Domestic/Vortex/Thrust
Katherine Bauer

black and white, silent, 6 min

Rental format: 16mm

Read More

Death Love
Katherine Bauer

color, silent, 10 min

Rental format: 16mm

Read More

Arcade Isle
Katherine Bauer

color, silent, 8 min

Rental format: 16mm

Read More

Crystallus: Crystal Death Phase
Katherine Bauer

color, silent and sound, 6 min

Rental format: 16mm

Read More

The Steam System
Katherine Bauer

color, silent, 3 min

Rental format: 16mm

Landscape / Architecture

Hand-Processed

Read More

Crystallus: Astral Erotic Impact Phase
Katherine Bauer

color, sound, 8 min

Rental format: 16mm

Read More

39,8280, -76,0121
Katherine Bauer

color, silent, 3 min

Rental format: 16mm

Body

Landscape / Architecture

Hand-Processed

Read More

Vixen
Katherine Bauer

color, silent, 3 min

Rental format: 16mm

Read More

How We Study the Sun
Katherine Bauer

color, silent, 3 min

Rental format: 16mm

Body

Hand-Processed

Spiritual / Mystical

Read More

Teen Dream
Katherine Bauer

color, sound, 8 min

Rental format: 16mm

Read More

Heiress
Katherine Bauer

color, sound, 8 min

Rental format: 16mm

Read More

Popple's Feet
Katherine Bauer

color, sound, 4 min

Rental formats: 16mm, Digital file