Screening
Abigail Child: Intrusions of Desire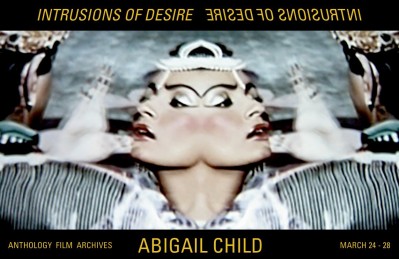 This spring, Anthology Film Archives will host a long-overdue retrospective of the work of the moving image artist, writer, poet, and longtime FMC member Abigail Child.
INTRUSIONS OF DESIRE features 8 screenings over 5 nights, from March 24th to March 28th. This retrospective includes immaculate prints of rarely-shown work, and Child herself will be attendance each night!
A leading figure of the generation of experimental filmmakers that emerged in the late 1970s and early 1980s, Child has continued to make innovative and challenging work — in a dizzying variety of forms and on a wide range of topics — ever since.
"As an artist and writer, Child has worked seriously across a range of media. In all of them, her principal form has been montage, developing, as Tom Gunning writes, 'a system founded not on coherence, but on breakdown; not on continuity, but interruption.'" —Colin Beckett.