Screening
An Encore Screening of Tone Glow Presents "Colordance"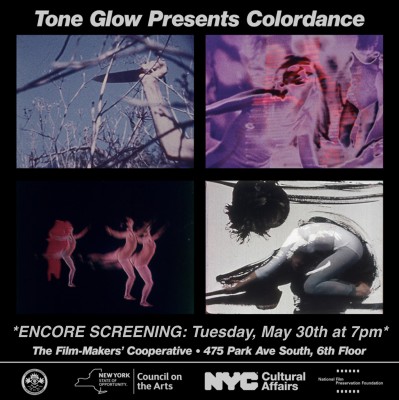 Can you believe Tone Glow's "Colordance" SOLD OUT within a DAY!? If you couldn't get tickets for the Friday, May 26th screening, not to worry... you can NOW get tickets for an ENCORE SCREENING, playing at the FMC Screening Room (475 Park Avenue South, 6th Floor) on Tuesday, May 30th, at 7pm!
The films in "Colordance" play on the title's double meaning: the first half of the program features cinedance works that showcase bold, choreographed pieces in vibrant colors, while the second half finds colorful specks dancing themselves. The goal is to have viewers witness how film can elevate an understanding of the body—both those onscreen and our own. Connected by their imaginative use of movement, color, and avant-garde film techniques, these works provide a sprawling look at film's prismatic, awe-inspiring capabilities.
***
PROGRAM:
Stan VanDerBeek, Film Form No. 1 (1968, color, sound, 11 minutes)
Ed Emshwiller, Dance Chromatic (1959, color, sound, 7 minutes)
Doris Chase, Dance 11 (1975, color, sound, 8 minutes)
Stan Brakhage, Dance (2000, color, silent, 7 minutes)
Sharon Couzin, Roseblood (1974, color, sound, 7 minutes)
Rudy Albers, Cycle (1973, color, silent, 4 minutes)
Standish Lawder, Raindance (1972, color, sound, 16 minutes)
Paul Sharits, Apparent Motion (1975, color, silent, 28 minutes)
Total Run Time: 88 minutes.