Screening
Awake, But Dreaming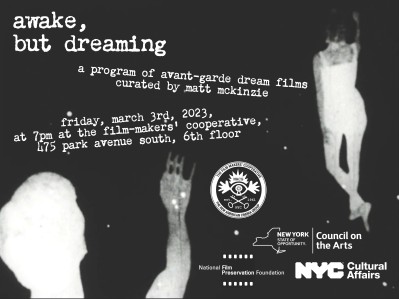 Join us at the Film-Makers' Cooperative (475 Park Avenue South, 6th Floor) on Friday, March 3rd, at 7pm, for an exciting program of avant-garde dream films curated by Matt McKinzie.
In his book Film and the Dream Screen: A Sleep and a Forgetting, author Robert T. Eberwein notes that "watching a film is like having a dream. Narrative elements sometimes seem to be outside spatial and temporal laws. The viewing conditions in the theater (such as the darkened room and the relative sense of isolation) are reminiscent of our solitary existence as dreamers alone in the night. The overpowering images on the screen sometimes frighten us and make us feel the same kind of paralysis we know in nightmares… [and] even though… the feeling that what we saw seemed very real to us during the experience of viewing… the longer we are away from the film, the more confused our memories of it become. In fact, the difficulty that presents itself as we try to recall the events and details of a film seems similar to that which we encounter as we try to remember dreams."
These surreal selections from the FMC archive invoke various filmic forms and practices to explore dreams and engender and comment on the oneiric feeling of watching moving images on a screen.
***
PROGRAM:
The Very Eye of Night by Maya Deren (1959, 16mm, 15 mins., B&W, sound)
Awake, But Dreaming by Kerry Laitala (2000, 16mm, 8 mins., color, sound)
Monkey Dream by Dave Gearey (1977, 16mm, 13 mins., color, sound)
I… Dreaming by Stan Brakhage (1988, 16mm, 6.5 mins., color, sound)
Trains Are For Dreaming by Jennifer Reeves (1999, 16mm, 7 mins., color, sound)
Travels and Dreams: Grey Area II by Gregory Anthon (1987, 16mm, 5 mins., B&W, sound)
The Recurring Dream by Storm De Hirsch (1965, 16mm 3 mins., color, silent)
At Land by Maya Deren (1944, 16mm, 14 mins., B&W, silent)
Pregnancy Dreams by Barbara Rosenthal (1975, Super-8/DVD NTSC, 4 mins., color & B&W, sound)
Total Run Time: 75.5 minutes.