Screening
Digital Celluloid
35 Meadow Street, Brooklyn, NY, 35 Meadow Street, Brooklyn, NY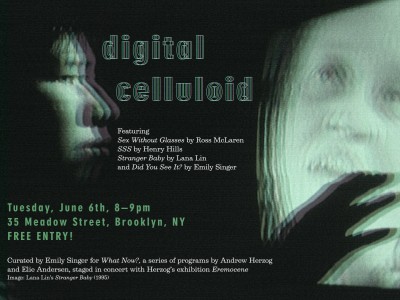 On Tuesday, June 6th, at 8pm, join us at 35 Meadow Street in Brooklyn, NY, for DIGITAL CELLULOID: a FREE screening of four experimental films from the Film-Makers' Cooperative archive, curated by Emily Singer, as part of WHAT NOW?, a series of programs curated by Andrew Herzog and Elie Andersen, staged in concert with Herzog's exhibition EREMOCENE.
This program delves into the exploration of physical space and our relation to it and our bodies, the complex dynamics of talking about sex and relationships, the enigma of the unknown and who we are, and the enduring nature of personal vision amidst a changing world.
The films featured span from 1983 to 2022, and reflect the perpetual unresolved issues and questions we have that persist in society, reminding us that certain aspects transcend time. Inspired by the prompt "NOW is both a time and a place," this program aims to embrace the present moment by acknowledging the weight of the past and the uncertainty of the future, fostering a space where we can learn, teach, and share with one another while considering the implications, opportunities, anxieties, and possibilities that both the past and future hold.
***
WORKS FROM THE FILM-MAKERS' COOPERATIVE ARCHIVE BEING SHOWN:
Sex Without Glasses by Ross McLaren (1983, 13 minutes): "An amalgam of sex without guilt and sight without glasses. The importance of being able to see what you are doing. A film about confusing relationships, telephones, and wetness; and starring a preverbal somnambulist floating between word and object." –R. M.
SSS by Henry Hills (1988, 5.5 mins): A dance film, starring Pooh Kaye, Sally Silvers, Lee Katz, Harry Sheppard, Kumiko Kimoto, David Zambrano, Ginger Gillesbie, Mark Dendy and others, with music improvised by Tom Cora, Christian Marclay and Zeena Parkins. Filmed on the streets of the East Village and edited over three years.
Stranger Baby by Lana Lin (1995, 14 minutes): Micro-narratives moving between fiction, non-fiction, and science fiction elaborate multiple meanings of the term "alien." "Substituting sly metaphor for political rhetoric on immigration, Lin examines our world of ethical and racial complexities." –L.A. Asian Pacific Film Festival catalogue
Did You See it? by Emily Singer (2022, 3.45 minutes): A non linear portrait of the city and others perceived.
**Time Crystals by Abinadi Meza (2021, 5.45 minutes) was later added to the program. "An experimental short film in which a synthetic narrator describes patterns in time, which 'she' calls time crystals. It is not clear if this film comes from an unknown future, is a consciousness loop, or a dream."**