Screening
Drawing Hiroshima Mon Amour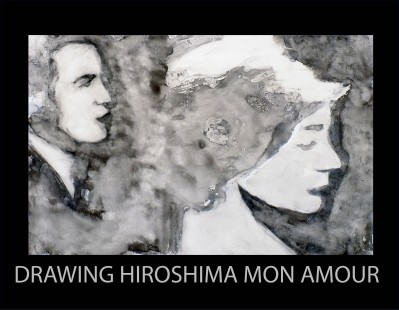 Artist Ellen Sullivan Sylvarnes present her series "Drawing Hiroshima Mon Amour" alongside excerpts from the iconic film.
RSVP
Sugested Donation: $10
475 Park Ave S. 6th Floor
Ellen Sullivan Sylvarnes is an artist mostly known for her exquisite abstract paintings and conceptual approach to figuration. In the series Drawing Hiroshima Mon Amour, which consists of 26 works on mylar paper completed in the 1990's, she re-contextualizes the visual language of Alain Resnais' monumental film HIROSHIMA MON AMOUR. A selection of these works were first featured in the "Personally Political: Contemporary Sensation" exhibition at the Kunsthaus Tacheles in Berlin. At tonight's lecture she will present these works which expand upon the film's poetic use of space and explore the boundaries between image, language and abstraction. This pictorial use of space dwells in the interstice between immediacy and reflection. What does it mean to work from a pre-existing work as a model to challenge the assumption that a work of art is finished by the artist themselves; or as a continuous and endless line punctuated by others. Although the drawings employ the visual language of the film itself they stand outside the film as a conceptual reflection. Ellen will speak of her own techniques as an artist and to her creative response to the film. Including simulation and the process of mining imagery and present day sampling. The film released in 1961 is a love story within the context of a personal tragedy in the shadow of a monumental tragedy. The drawings are a vehicle to create an extended and expansive meaning to the original work.
The evening will include projected clips from the film with a Q&A after the talk.
Refreshments will be served after the event.