Screening
"Flaming Creatures" + "There is a Transolution"
Arverne Cinema, 72-02 Gouverneur Ave, Queens, NY 11692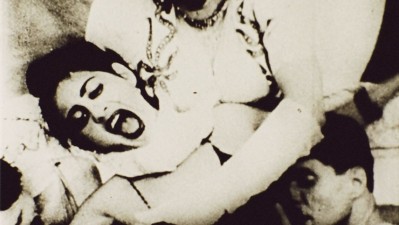 Join us at the Arverne Cinema on Saturday, May 27th, at 8:30pm, for a screening of Jack Smith's "Flaming Creatures" and Viva Ruiz's "There is a Transolution," co-presented by The Infernal Grove and the Film-Makers' Cooperative.
"Dead person, dead person, will you partake in my persimmon feast? The body inside the body astounds, confesses sins of the funhouse." -In Aporia, Akilah Oliver
We want to make a program about reproductive justice that looks at the body not as a beginning or an end point, but as an entry to larger conversations around autonomy. The autonomy of choice, in all its own implications. To have an abortion, to safely use drugs, to live a life getting clean (whatever that may mean). To have a body that holds the memory of another body that does not exist in the physical anymore.
We have paired Flaming Creatures by Jack Smith alongside Viva Ruiz's There is a Transolution to create an intergenerational portal of futures for our presents. We look to these images to think towards a collective future, where bodies can exist in the forms they like on the terms they want.
Time doesn't pass, it accumulates.
‍-Devon Narine-Singh + Liz Roberts, The Infernal Grove.
‍‍***
PROGRAM:
Flaming Creatures by Jack Smith. 1962. 43 minutes.
‍Nothing short of notorious, Flaming Creatures marked a significant moment in the history of postwar American film and culture. The film was banned and seized, caused cinemas to be shut down, and was the subject of an obscenity case that reached the U.S. Supreme Court.
‍And yet Flaming Creatures was, according to Jack Smith, ultimately meant to be a comedy. On a rooftop above one of New York's oldest extant (now demolished) movie houses, characters disrupt gender and sexual norms as they act out carnal fantasies on a set resembling an Arabian harem. —ICA
‍
There is a Transolution by Viva Ruiz. 2019. 7 minutes.
Viva Ruiz invites transgender AIDS activist, artist, and beloved friend Chloe Dzubilo (1960–2011) to speak via never before seen Hi-8 footage filmed by Chloe's then-partner Kelly McGowan in the 1990s. The process triangulates mother (Chloe), lover (Kelly), and child (Viva) in a deliberate ritual to uplift the spirit and legacy of an ancestral teacher. Through artifacts from the moment when video first became accessible and before mobile phone cameras became ubiquitous, we witness Chloe declare herself and her sisters as leaders in art, advocacy and culture for evermore.
***
All funds from ticket donations will go to THANK GOD FOR ABORTION.‍