Screening
Panel Discussion: New Year/New Work 2021
Online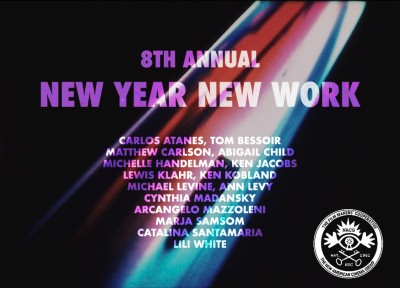 Join us for a virtual panel discussion with the filmmakers of New Year/New Work 2021.
8TH ANNUAL NEW YEAR, NEW WORK 2021: Celebrating recent additions by new and longstanding FMC members to our growing collection of experimental and avant-garde films.
BIOGRAPHIES
Carlos Atanes
Carlos Atanes was born in Barcelona, Spain in 1971 and has been making underground films since the early 90s. His work forms a cocktail of dream worlds, black comedy,, philosophical provocations, parallel dimensions, dystopias, and narrative transgressions. He has always conceived his work in different media, both narrative and non- fiction, as a tool to explore the interstices and fissures in the walls of consensual reality.
Tom Bessoir
Born in New York City in 1957, Tom Bessoir attended The Bronx High School of Science and studied electrical engineering and mathematics at The Cooper Union for the Advancement of Science and Art. While at The Cooper Union, he studied filmmaking with Robert Breer, Joshua Pines, and Sandy Moore. Tom Bessoir's experimental films often use mathematics to explore perception and the structure of film. In the arts, Tom Bessoir is best known for Microfilm (1979), Digits of Pi (2019), and his photography documenting downtown NYC.
Matthew Carlson
Matthew Carlson is a moving image artist living and working in Queens, New York. He received a BFA in Film/Video from Pratt Institute in 2015 and worked with Artforum, Marina Abramović, and the production company Faliro House. His work has been included in multiple group screenings at the Brooklyn Academy of Music, Pratt Manhattan, and the Robert Rauschenberg gallery in South Florida. He currently spends his days as a trailer editor and social media manager for the Film-Makers' Cooperative.
Abigail Child
Abigail Child is a filmmaker, poet, and writer who has been active in experimental writing and media since the 1970s. She has completed more than thirty film and video works and installations, and six books. Child's early film work addressed the interplay between sound and image through reshaping narrative tropes, prefiguring many concerns of contemporary film and media.
Michelle Handelman
Michelle Handelman uses video, live performance and photography to make confrontational works that explore the sublime in its various forms of excess and nothingness. Her background is a study in opposites – raised during the late 60s/early 70s, Handelman split her time between Chicago, where her mother was a fixture in the art world, and Los Angeles, where her father was a player in the counterculture sex industry. Over the years Handelman has voraciously traversed both these worlds, developing a body of work that investigates ways of looking at the forbidden and revealing dark, subconscious layers of outsider agency.
Ken Jacobs
"One of the founders of the American avant-garde cinema, Ken Jacobs (b. 1933) has been working ceaselessly and boundlessly in film, video and moving image performance for over fifty years. Jacobs began working in a mode of guerilla cinema, shooting anarchic and exuberant – yet also politically astute – theatrics in the streets of his native New York in the early 1950s, including a number of prescient and Beat infused works – Little Stabs at Happiness, the shorts included in The Whirled – made with a very young Jack Smith.
Fascinated with early cinema and experimental film from a young age, Jacobs gradually turned to found footage as a dominant inspiration, a breakthrough marked by his seminal deconstruction of cinematic narrative and illusionism Tom, Tom the Piper's Son (1969), which famously manipulates and expands a 1905 film of the same name to create a breathless and revelatory work of pure cinema. Early "primitive" cinema, and increasingly, nineteenth century photography, has remained a touchstone in Jacobs' work and a principal tool to launch an extended critique of the aesthetic, ideological and technological limits defining film and the cinematic apparatus itself. In the 1970s Jacobs took this critique to another level, defining what he termed "paracinema," a radical mode of moving image performance that included his Nervous System Performances, transformative film experiences that use two simultaneous 16mm projectors and a variety of live sound and music to explore those audio-visual dimensions hidden within the film strip. Endlessly curious about technology, Jacobs embraced the possibilities of video in a meeting of the digital, early film/photography and 3-D imagery that magically bridges the nineteenth and twenty-first centuries and has given way to such powerful and sublimely beautiful works as Krypton is Doomed, and, most recently, Razzle Dazzle: The Lost World. Among Jacobs' most important inventions is his Nervous Magic Lantern, a mysterious and mesmerizing performance of light and shadow that returns to cinema's most essential roots, and which he evocatively describes as 'cinema without film or electronics.'" - Harvard Film Archive
Ken Kobland
Ken Kobland is a New York born and based filmmaker who has been working since the seventies. He has been recognized in a plethora of festivals and collaborated with the Wooster Group.
Lewis Klahr
Lewis Klahr (born 1956) is a Los Angeles based collage artist who uses found images and sound to explore the intersection of memory and history. He is primarily known for his uniquely idiosyncratic films, which he began creating in 1977 and have screened extensively in the U.S., Europe and Asia. Lewis Klahr teaches in the Theater School of the California Institute of the Arts.
Michael Siporin Levine
Michael Siporin Levine is a visual artist living and working in Brooklyn, NY. Working across disciplines, he creates prints, drawings, films, animations, and installations that mix autobiography with abstraction and invention. Michael has shown his work both nationally and internationally. Some recent noteworthy residencies and fellowships include a summer residency at Goggleworks Center for the Arts in Reading, PA (2019); a visiting Artist in Residency at Wesleyan College (2019, Macon, GA); a residency and solo exhibition/performance at Galeria Wschodnia (2018, Łódź, Poland); and a summer residency at Vermont Studio Center (2017).
Ann Deborah Levy
Ann Deborah Levy, whose work is informed by her beginnings in painting, is a filmmaker focused on perception and natural imagery.
Cynthia Madansky
Integrating hybrid forms and narrative traditions, the films of Cynthia Madansky engage with cultural and political themes, foregrounding human experience and personal testimony. Recently Madansky has begun integrating drawing on celluloid, creating a series of new work which experiments with optical printing, hand processing and painting.
Arcangelo Mazzoleni
Graduated in direction from Centro Sperimentale di Cinematografia of Rome and in Modern and Contemporary Italian Literature, he's a total artist: poet, documentary filmmaker, photographer and visual artist, writer of books on film language and theory. He taught film at University, Screenwriting at Rai-Italian Radio and Television. He works in collaboration with his wife Mariella Buscemi, screenwriter and author. In recognition of his contribution to the arts the Calcografia Nazionale of Rome with the Ministero Beni Culturali has dedicated to the solo exhibition "Arcangelo Mazzoleni: Il Mondo al fuoco dello Sguardo. Films, Videos, Photos, Drawings and Mixed Media on paper".
Marja Samsom
Marja Samsom started Super-8 filmmaking in Amsterdam in the 1970s; living in New York City since the '80s as a conceptual filmmaker, photographer, and performer. Glamour is resistance.
Catalina Santamaria
Catalina Santamaria is Producer and Broadcast Associate at Italics – CUNY TV. She worked as editor and cinematographer with Emmy Award Winner Caridad Sorondo (Puerto Rico) and as production assistant with renown independent filmmaker, Alan Berliner. Ms. Santamaria's award-winning films include, Umbrella House (2014), 2015 Director's Choice Award at Black Maria Film Festival; Luminescence (2010) : Jerome Foundation grant; Derail (1997): Kodak Cinematography Award & the 1st Place Audience Award at The New Haven Film Festival; Except my soul… (1999): Best Film - Best Director - Best Cinematography at the V International Short Film Festival "El Espejo," Bogotá, Colombia; Squatters: feature documentary in post-production.
Lili White
Lili White received a BFA from The University of Pennsylvania and is a graduate of the Pennsylvania Academy of Fine Art's four-year study in painting. White is a practicing artist, experimental filmmaker, media artist, writer, and producer. Her films and selected videos have exhibited with the Shanghai's Dulotun Museum of Contemporary Art, the American Museum of the Moving Image, the Museum of American Art in Philadelphia, Newhouse Center Of Contemporary Art, Millennium Film Workshop, and The Jersey City Museum. Since 1978 Lili White has been exploring origins of myth, primacy of memory, dreaming, exercises in self and counter self-imagining, through her moving image works. She is a fixture in the history of avant-garde filmmaking, and throughout her career she has maintained a dedication to experimental work created by women filmmakers, curating ANOTHER eXperiment by WOMEN FILM FESTIVAL in NYC, begun in 2010, which promotes and screens experimental films quarterly at Anthology Film Archives and has an online presence (http://axwonline.com). AXW has since become a Fractured Atlas Fiscally Sponsored Campaign and a recipient of the LMCC's MCAT Arts Fund Grant.