Screening
Porno Chic to Sex Positivity: Erotic Content & the Mainstream, 1960 till Today
Museum of Sex, 233 5th Ave, New York, NY 10016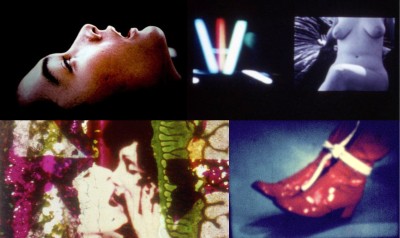 The latest curation in the Museum of Sex's ongoing series features films from our archives, including JEROVI (1965), by José Rodriguez-Soltero, SNO-WHITE (CRIMSON) (1973) by Martha Edelheit, PLAY BOY (1984) by Tessa Hughes-Freeland, and THE COLOR OF LOVE (1994) by Peggy Ahwesh.
"In the end, sex is too important to leave to the pornographers." –Linda Williams
Porno Chic to Sex Positivity: Erotic Content & the Mainstream, 1960 till Today chronologically traces pornography's permeation of mainstream culture over the last forty years through a presentation of media. The history of mass media is one of political and social discrimination against forms of illicit content. When the first motion pictures came out, they were attacked and deemed too titillating for the masses. Since the first films appeared in the nineteenth century, pornographic content has moved slowly but surely from the edges to the center.
While sex has always been culturally relevant, the creative revolution of the 1960s inspired a more open environment in which erotic material, called "porno chic," was embraced. Today sexual material has seeped into all aspects of mainstream mass media, energizing a variety of cultural genres and sparking the sex positivity movement. This shift of erotic content from the margins to the mainstream has been part of an overall liberalization of popular culture since the 1960s.
Composed of four thematic sections: A Pornographic Avante-Garde, Sexualized Marketing, Scandalous Scenes of Cinema, and Music: an Erotic Form, the exhibition will present a curated selection of over 60 videos. In addition to the commercial, cinematic and music video compilations and full screening of a selection of fine art and experimental films, the exhibition will feature vintage movie posters, historical ephemera, and a timeline looking at censorship in media over the last six decades.
***
THIS EXHIBIT OPENED ON JUNE 4, 2021 AND IS ONGOING.