Screening
Pride at the Film-Makers' Cooperative: Groundbreaking Queer Films and Filmmakers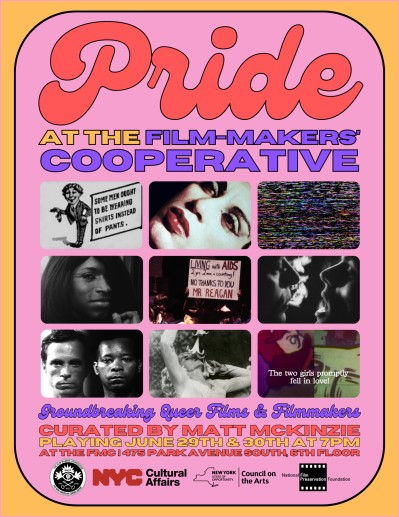 In honor of Pride month, join us at the FMC Screening Room (475 Park Avenue South, 6th Floor) on Thursday, June 29th, and Friday, June 30th, at 7pm, for a two-night program of groundbreaking queer, experimental films by legendary filmmakers in our archive, curated by Matt McKinzie.
THURSDAY TICKETS / FRIDAY TICKETS
A haven for "outsider" artists since its inception, the Film-Makers' Cooperative houses some of the most vital and groundbreaking queer films in history. In honor of Pride month, this two-night program showcases a handful of these paradigm-shifting works.
Internal Combustion (1995) by prolific and award-winning multimedia artist and 2017 Guggenheim fellow Cynthia Madansky, in collaboration with filmmaker, scholar, and practitioner Alisa Lebow, is a pioneering work that breaks the many silences surrounding lesbians and AIDS, and reflects on the often unspoken tensions within this epidemic of survival, power, mourning, and loss. Nikolai Ursin's Behind Every Good Man… (1966) offers one of the first filmic portraits — an uncommonly sensitive and non-sensationalistic one, at that — of the lived experiences of a Black trans woman in 1960s Los Angeles; just last year, the film was selected for preservation in the National Film Registry by the Library of Congress for "cultural, historic, and aesthetic significance." Elegy in the Streets (1989) sees Jim Hubbard — the founder and president of MIX: the New York Lesbian and Gay Experimental Film Festival — exploring the AIDS crisis from both a personal and a political perspective, with a work that intertwines two motifs: memories of Roger Jacoby, a filmmaker who died of AIDS, and the development of a mass response to AIDS. Meanwhile, Flaming Creatures (1962) — an incendiary, pre-Stonewall depiction of drag queens, trans folks, intersex folks, and queer sexuality — remains one of the most controversial films ever made, having been confiscated by the police shortly following its premiere and soon thereafter landing filmmaker Jack Smith in New York Supreme Court on obscenity charges.
Atalanta: 32 Years Later (2006), dedicated to trailblazing lesbian filmmaker Barbara Hammer, finds the legendary Lynne Sachs reworking the age-old fairytale of a princess looking for her "perfect prince" into "an homage to girl/girl romance" via reappropriated footage and audio from Marlo Thomas' 1974 feminist version of the children's parable for TV's Free to Be You and Me. Peter Cramer's Black & White Study depicts Cramer's interracial relationship with fellow filmmaker and activist Jack Waters in a groundbreaking "tableau vivant of opposites and attractions" that premiered at Jim Hubbard's MIX in 1990. Amnesia (2000) "uses found footage, 19th century photographs of affectionate men, digitized video imagery, and gay ephemera to imagine a past and create a future," and was directed by Jerry Tartaglia, who passed away just last year and was one of the major champions and preservationists of the work of Jack Smith (not to mention a highly influential filmmaker in his own right). José Rodriguez-Soltero's Lupe (1966) — an "underground classic of the stature of Flaming Creatures, Scorpio Rising, Hold Me While I'm Naked, or The Chelsea Girls" — offers a "color-saturated, dime store baroque" account of the life of Lupe Vélez (played by Mario Montez in drag) and has influenced everyone from Pedro Almodóvar to Vivienne Dick to Bruce LaBruce. Last but not least, Jean Genet's lyrical Un Chant D'Amour (1950) predates the founding of the Film-Makers' Cooperative, and depicts the fantasy of a gay male prisoner and that of his captor. The iconic French writer's only film, it would shape the future work of cinematic titans like Kenneth Anger and Robert Bresson.
***
PROGRAM:
Thursday, June 29th (Total Run Time = 88 minutes):
Internal Combustion (1995), Cynthia Madansky, 7 minutes, digital, sound, color
Behind Every Good Man… (1966), Nikolai Ursin, 8 minutes, 16mm, sound, B&W
Elegy in the Streets (1989), Jim Hubbard, 30 minutes, 16mm, silent, color
Flaming Creatures (1962), Jack Smith, 43 minutes, 16mm, sound, B&W
Friday, June 30th (Total Run Time = 92.5 minutes):
Atalanta: 32 Years Later (2006), Lynne Sachs, 5 minutes, digital, sound, color
Black & White Study (1990), Peter Cramer, 4 minutes 29 seconds, digital transfer from 16mm film, silent, B&W
Amnesia (2000), Jerry Tartaglia, 7 minutes, 16mm, sound, color
Lupe (1966), José Rodriguez-Soltero, 50 minutes, 16mm, sound, color
Un Chant D'Amour (1950), Jean Genet, 26 minutes, 16mm, silent, B&W