Screening
Reel Poetics: Jonas Mekas and His Cinematic Circle
Monira Foundation @ MANA Contemporary, 888 Newark Ave, Jersey City, NJ 07306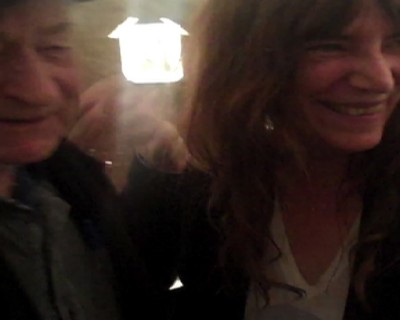 Three programs that will consist of one of Jonas Mekas' feature films that speaks to his mission of personal cinema. He believed that everyone could and should create a film. Each title will be paired with a different filmmaker whose radical or visionary work Jonas invited into the FMC collection in order to ensure the visibility that he believed these masterpieces of cinema deserve. Curated by MM Serra.
Pt 2: Poetic Vision of Jonas Mekas
*FREE SHUTTLE BUS AVAILABLE. LEAVING COOP OFFICES 475 PARK AVE SOUTH @ 1:00 P.M.*
Program will begin at 3:00 PM on the 5th Floor.
FMC is pleased to screen two original hand-painted 16mm film prints from artist and filmmaker Storm De Hirsch, alongside her footage of Mekas making The Brig, plus Jonas Mekas' 2011 feature film Sleepless Nights Stories.
Third Eye Butterfly by Storm De Hirsch (1968, Color, Sound, 10 mins, 16mm)
Peyote Queen by Storm De Hirsch (1965, Color, Sound, 9 mins, 16mm)
Newsreel: Jonas In The Brig by Storm De Hirsch (1964, B&W, Silent, 5 mins, 16mm)
Sleepless Night Stories by Jonas Mekas (2011, Color, Sound, 114 mins)
Total Runtime: 138 mins