Screening
Robert Kramer's "Ice" on 16mm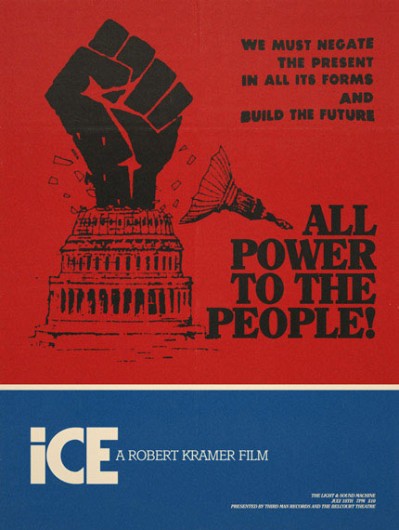 On Friday, April 21st at 7pm, at the FMC Screening Room (475 Park Ave. South, 6th Floor), Robert Schneider will present Robert Kramer's extraordinary 1969 feature film ICE.
"I think that now, based on a lot of Ice's contradictions — between men and women, between 'activism' and 'living,' between life and death — I think that now we are starting to understand the synthesis, or at least the very diverse forms of synthesis, that will help us create a higher, clearer level of consciousness, and therefore a higher level of activism." —Robert Kramer
Robert Kramer's Ice (1969) follows an underground revolutionary group as they carry out urban guerrilla attacks against a fictionalized fascist regime in the United States, while struggling against internal strife. This narrative is intermixed with sequences that explain the philosophy of radical action and play down the melodrama inherent in the thriller genre.
You don't want to miss the opportunity to see this stunning work — described by presenter and curator Robert Schneider as having "the tone and themes of an Alan J. Pakula paranoia thriller by way of the aesthetics of a John Cassavetes film" — on the big screen!