Screening
Something Old, Something Blue
Online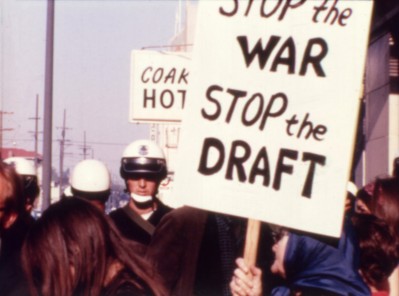 This program, curated by Mark Street, pairs 4 brand new films from Fordham University students (who had to leave campus Friday March 13 because of the pandemic) with works previously in distribution. Made between 1964 and 2020 these films investigate fractious politics, urgent street protests, domestic contemplation, melancholic memories and economic anxieties.
Q&A ON ZOOM JULY 1 @ 7PM ET
Curated by Mark Street
LINE-UP:
Estamos Cansados
Jeff Figuereo, 2020, 4 minutes
A personal documentary about the growing distrust of the Dominican government by its people. Super 8 footage showcases the Dominican protests in Washington Heights in November 2019.
This is Not Normal
Sophie Lee, 2020, 6 minutes
A meditation on the uncertainty and absurdity of the pandemic through the eyes of a college senior.
American Onement
Tim Lee, 2020, 11 minutes
The film calls attention to the continued obliteration of "the American Dream" via polarization, fundamentalism, commercialism, and plain old delusion riddled apathy— all of which our duopolistic political party system fuels and supports.
Remnants of Normality
Leeanna Harisprashad, 2020, 2.5 minutes
This work is a collection of memories of life before social distancing. It reminisces on moments we took for granted, people we wish we could've known sooner, and places we long to visit again.
My Mis-Education in 3 Graphics
Mary Filippo, 2020, 3.5 minutes
A chapter on market (economics model of supply and demand) assumptions; these include the absence of advertising, as if our demand for stuff is there without it.
Who Do You Think You Are
Mary Filippo, 1986, 10 minutes
A filmmaker investigates her own cigarette smoking habit while wishing she could make "a film about injustice."
Peace Pickets Arrested for Disturbing the Peace
Leonard M Henny, 1968, 7 minutes
This documentary depicts the preparations for and the development of the October 1967 non-violent, anti-draft demonstration at the Oakland Induction Center that led to the arrest of Joan Baez and 20 pacifists.
Go Go Go
Marie Menken, 1964, 11.5 minutes
Various parts of the city of New York, the busy man's engrossment in busy-ness; a tour-de-force depiction of the kinetic rhythms of daily life.
Blues
Larry Gottheim, 1970, 8.5 minutes
A bowl of blueberries in milk, changing light radiant on the berries and on the glazed bowl, the ever more radiant orb of milk transforming into glowing light itself, with a brief shadow coda answering the complex play of shadows. The pulses of vision, the simple natural processes, lift the spirit.