Screening
The Carnal Screen: "The Deadman" by Peggy Ahwesh and Keith Sanborn
Roxy Cinema, Cellar level of The Roxy Hotel, 2 6th Ave, New York, NY 10013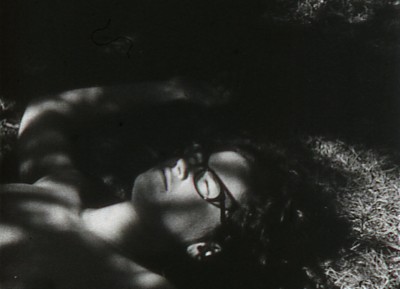 On Sunday, January 22nd at 2:30pm, the Film-Makers' Cooperative is proud to co-present with the Museum of Sex, at the Roxy Cinema NYC, the next installment in our ongoing Carnal Screen series: THE DEADMAN by Peggy Ahwesh and Keith Sanborn.
Programmed in conjunction with the Roxy Cinema NYC and the Museum of Sex. Introduction by Sean Price Williams.
"The Deadman charts the adventures of a nearly naked heroine who leaves the corpse of her dead lover in a country house, goes to a bar and sets in motion a scabrous free-form orgy before returning to her house to die. The film manages to approximate the transgressive poetic prose of Bataille (a mixture of elegance, raunchy defilement, and barbaric splendor) while celebrating female sexual desire without the usual patriarchal-porn trimmings." – Jonathan Rosenbaum, Chicago Reader.
Made with Keith Sanborn. Featuring performances by Jennifer Montgomery, Roman Quanta la Gusta, Scott Shat, Diane Torr, and Leslie Singer.