Screening
The Mutiny of Mirrored Worlds: Excavating the Films of Abigail Child
Online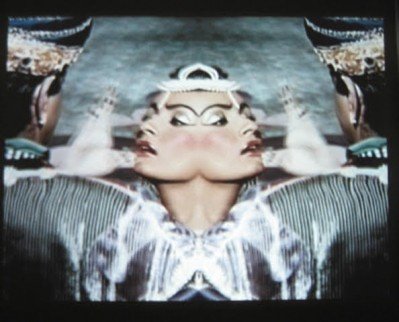 Join us for a screening and panel discussion of films by Abigail Child.
Join us for a panel discussion with Abigail Child, Ken Jacobs, and Ruth Novaczek, moderated by Melissa Ragona
This panel will examine several films from the work of Abigail Child —including both recent films, i.e., Acts and Intermission (2017), an experimental documentary on the life of Emma Goldman, as well as earlier, classic works, such as Mutiny (1983), from her renowned series: Is This What You Were Born For? filmed on the Lower East Side in New York. Addressing ideas of montage, sound, language, and document, the panelists, Ken Jacobs, Ruth Novaczek and Melissa Ragona will engage Child in a dynamic conversation about the varied strategies for forging an alternative cinema that confronts the tensions between form and politics.
Acts and Intermissions (Abigail Child, 2017)
A person is transformed into an icon by a kind of violent, flattening rupture. Emma Goldman has been made into such an icon many times over. During her lifetime, it was as "the most dangerous woman in America," posthumously as perhaps the most famous anarchist in Anglophone history — for most, however, as the name attached to a likely apocryphal quotation. Onscreen, she has been the subject of stodgy PBS documentary, and a bit player in a handful of others. She was portrayed most famously in Warren Beatty's Reds, as a kind of earthy (and fully Americanized) matron. Following the arc of Goldman's life over the course of the 32 years she spent in the United States, Abigail Child's Acts and Intermissions restores Goldman her complexity, though not as a fully-formed and unitary subject of biography or intellectual history. As an artist and writer, Child has worked seriously across a range of media. In all of them, her principal form has been montage, developing, as Tom Gunning writes,"a system founded not on coherence, but on breakdown, not on continuity, but interruption." Here she subjects Goldman to the latest iteration of this always evolving system. She mixes Goldman's own words, in titles and on the soundtrack, with reenacted tableaux and documentary footage both archival and new. This method uncovers the historical figure as a patchwork of complex personal and historical determinations that cannot be contained within a sealed past, but which seep into a present moment animated by the same injustices Goldman sought to abolish.
ELSA merdelamerdelamer (Abigail Child, 2013)
ELSA merdelamerdelamer Digital. B&W. 4 min. 2013. A smokey, punky and sexy chapter in the collectively made Feminist bio-drama, MamaDada about the Baroness Elsa von Freytag-Loring-hove, avant-garde performance artist, sculptress and poet. This brief excursion is inspired by an event that was lost in development where Man Ray and Duchamp made a film of the Baroness shaving her public hair.
(If I Can Sing a Song about) Ligatures (Abigail Child, 2009)
Third in my series of Foreign Films exploring relations of text and image, how text turns the image. In (If I Can Sing A Song About) Ligatures, words taken from lines of Nada Gordon's unrequited love poems, whose sentences are taken, in their turn, from anonymous web poems, reveal a history of sexuality. Ligatures pronounces the poignancy of desire; its power and its vulnerability. The women are visions, girls, desirous, delicate, illusory. The illusionary nature is made manifest-transversing boundaries, expectations and physical limits-by the close. We in the audience, creating our own identities in the moments, remain trans-fixed.
Mirror World (Abigail Child, 2006)
In collaboration with Gary Sullivan & Mehboob Khan's AAN. A reshaping of Khan's classic Bollywood feature, locating its narrative tropes against mis-translated subtitles - becoming "multi-lingual" in the maneuver. Formal play and poetic montage wrench causality to create a sub-version of class conflict and desire.
B/Side (Abigail Child, 1996)
Child's B/SIDE is a provocative exploration of the urban homeless, combining sensitive footage of their exterior situation and entering imaginatively into interior fantasies. Framed by footage of the encampment locally known as Dinkinsville on New York's Lower East Side, where some of the homeless of Tompkins Square Park settled after the riots of June 1991, the movie begins with the encampment's first night and ends with the fire and subsequent destruction of the lot in October of the same year. Applying rhythmic construction, poetic license and a generous eye to bodies in poverty, B/SIDE documents a gritty vision of late 20th century urban life.
Mutiny (Abigail Child, 1983)
This movie is a new kind of classic, it has invented once and for all the machine-gun sound of explosives and composed sentences with speeded-up speech and wild singing, laughter, hardly [at] all understandable, with violins screeching like falling bombs and a Hispanic grind dance .... There are tender closeups in interviews with women, and marvelous documents of dancers, street performers, all races & styles. These are brave and straight-talking people; this is a feminist film, and it is important. All the sound makes a talky song of many voices. – Anne Robertson, X-Dream
"Plastically a marvel, a discerning powerhouse performance." – Ken Jacobs
From the series Is This What You Were Born For?. Featuring Polly Bradfield (violinist), Sally Silvers (dancer), Erica Hunt (poet), and Shelley Hirsch (singer).