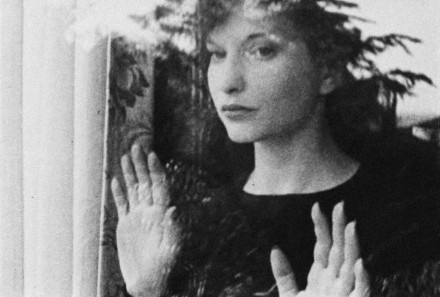 Meshes of the Afternoon
16mm, black and white, sound, 14 min
In 2015 the BBC named the film the 40th greatest American movie ever made.
Rental formats: 16mm, Digital file
About
In 2015 the BBC named the film the 40th greatest American movie ever made.
A large flower, the silhouette of a figure briskly walking away, a house key, a bread knife, a telephone receiver resting off the hook, and a spinning phonographic turntable define the shifting functional elements in Meshes of the Afternoon from which the film's evolving, malleable construct - the fragile and tenuously interconnected mesh of actual and perceived reality - is intriguingly (and ingenuously) mapped.
A woman (Maya Deren) walking along the sidewalk near her home catches a momentary glimpse of a figure turning the corner, unlatches the front door and, after a cursory inspection of the empty household, proceeds upstairs to rest on an armchair situated by a front-view window.
From this deceptively simple introductory premise, Maya Deren modulates the mise-en-scene of seemingly mundane objects to create overlapping, yet non-intersecting planes of existential reality, using permutations of recurring images - mirrored surfaces (the apparition's face, polished metal spheres, a hand mirror), glass, duality and doppelgangers - to represent variably interlocking narrative fragments of observation, inference, deduction, and memory.
Unfolding with the narrative discontinuity characteristic of nouvelle roman literature (creating an idiosyncratically dissociative filmic language that also characterizes Alain Resnais' subsequent feature films, particularly Last Year at Marienbad and Je t'aime, je t'aime), the film posits a series of subtle structural, temporal, and logical mutations, creating a sublimely recursive, mind-bending meditation on the interaction between experience and memory, domestic banality and violence, imagination and causation.
Films
Other films by this artist in our catalogue

Read More

The Witch's Cradle
Maya Deren

16mm, black and white, silent, 12 min

Rental formats: 16mm, Digital file

Read More

At Land
Maya Deren

16mm, black and white, silent, 14 min

Rental formats: 16mm, Digital file

Psychology / Mental Health
Philosophical
Arts / Artists

Read More

A Study In Choreography For Camera
Maya Deren

16mm, black and white, sound, 3 min

Rental format: 16mm

Read More

Ritual In Transfigured Time
Maya Deren

16mm, black and white, sound, 15 min

Rental format: 16mm

Read More

Meditation On Violence
Maya Deren

16mm, black and white, sound, 13 min

Rental format: 16mm

Read More

Dance Films
Maya Deren

black and white, silent and sound, 47 min

Rental format: DVD PAL

Read More

The Very Eye of Night
Maya Deren

16mm, black and white, sound, 15 min

Rental format: 16mm

Read More

Divine Horsemen: The Living Gods of Haiti
Maya Deren

16mm, black and white, sound, 54 min

Rental format: 16mm

Ethnographic
Spiritual / Mystical
Dance