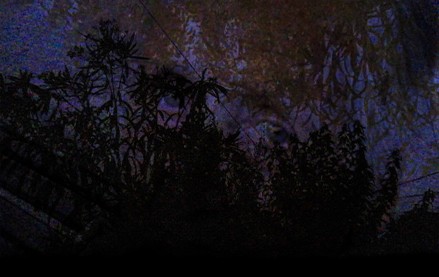 Tempesta a "Les Fonts" d'una memòria (Storm in "the Sources" of a Memory)
color, sound, 4 min
series: information devices
Rental format: Digital file
$40.00
Available for sale: Digital file
$200.00
About
series: information devices

In this series I work with democratic information devices. I transform the noise of all types of devices into a subjective poetic gaze which contrasts with the objective eye of the informational language.

I was recently stuck in the village where my mother was born, without wi-fi or television.
As the only entertainment I contemplated the trees outside the front door. One night I experienced the spectacle of nature in a storm that was like fireworks. So I filmed my first storm in Les Fonts with every device i had on hand: mobile, desktop and a cheap camera. With these, i made an assembly with textures using images and sounds to create a visual and auditory rhythm. It was as if the lightening allowed me to draw from the dark night of oblivion the ghosts of the memory of my origins.
Or, as if the snapshots were deconstructed when they returned to the present and they lost all the clarity of their origins.

Programs
See More

New Year New Work 2017

Our fourth annual New Year, New Works program, a two-day screening showcasing the wide-ranging work of both new and long-term Coop members. Filmmakers will be present for Q&A following screening. Programmed and curated by Gregg Biermann, G. Anthony Svatek and Courtney Muller.
Films
Other films by this artist in our catalogue

Read More

Codes of... senses II
Rrose Present

color, sound, 4 min

Rental formats: Digital file, DVD NTSC

Philosophical
Political / Social Activism
Found Footage

Read More

ODE Europe I, Melilla Beach 2014 or Homage to "La Plage" by Patrick Bokanowski
Rrose Present

color, sound, 3 min

Rental formats: Digital file, DVD NTSC

Political / Social Activism
Found Footage

Read More

Origen del mundo (Eros / Tanatos) o Hirohima sin amor (Origin of the World (Eros / Thanatos) or Hiroshima loveless)
Rrose Present

color, sound, 3 min

Rental formats: Digital file, DVD NTSC

Read More

Todo es de color
Rrose Present

color, sound

Rental format: Digital file

Political / Social Activism
Found Footage

Read More

SHOOT-FILM, Ventana abierta al mundo o re-interpretación de BECKETT'S FILM
Rrose Present

color, sound, 4 min

Rental format: Digital file

Body
Political / Social Activism
Films About Film
Philosophical

Read More

Re-interpretación de "Toute la mémoire du monde" de Alain Resnais o Memoria de un presente
Rrose Present

color, sound, 3 min

Rental format: Digital file

Political / Social Activism
Found Footage

Read More

Autoretrat: TEXTures d'un camí (self-portrait: TEXTures of a path)
Rrose Present

color, sound, 7 min

Rental format: Digital file

Biography / Autobiography
Personal / Diary / Journal

Read More

RESET ME / Dirty Clothes are Washed at Home
Rrose Present

color, sound, 2 min

Rental format: Digital file

Biography / Autobiography
Spiritual / Mystical

Read More

Desire I, to trip of the red mistery
Rrose Present

color, sound, 14 min

Rental format: Digital file

Biography / Autobiography
Spiritual / Mystical

Read More

ADDITIVE EMOTIONS, Impacts of Medial Light
Rrose Present

color, sound, 2 min

Rental format: Digital file

Political / Social Activism
Found Footage

Read More

Escalera al infierno (Ladder to hell)
Rrose Present

color, sound, 10 min

Rental format: Digital file

Biography / Autobiography

Read More

RESURRECTION, The bird's spirit that stopped putting on pig's skin
Rrose Present

color, sound, 10 min

Rental format: Digital file

Biography / Autobiography

Read More

Deseo II, viaje al miserio verde
Rrose Present

color, sound, 8 min

Rental format: Digital file

Environment / Nature
Spiritual / Mystical

Read More

ILLEGAL contemplation
Rrose Present

color, sound, 3 min

Rental format: Digital file

Political / Social Activism
Environment / Nature

Read More

BUSCANDO LA LUZ / CAINOS DE LUZ(LOOKING FOR THE LIGHT / LIGHT PATHS)
Rrose Present

16:9 Digital , color, sound, 4 min

Rental format: Digital file

Personal / Diary / Journal

Read More

Blood Roots
Rrose Present

Digital File, color, sound, 15.57 min

Rental format: Digital file

Biography / Autobiography

Read More

Horizon of Meaning
Rrose Present

Digital File, color, sound, 4.36 min

Read More

Open eyes in shadow series: Domestic Notes
Rrose Present

digital , color, sound, 4.54 min

Rental format: Digital file

Personal / Diary / Journal

Read More

Pandemia: Flores la Margen / Malas hierbas
Rrose Present

Digital File, color, sound, 1.33 min

Philosophical
Political / Social Activism
Personal / Diary / Journal

Read More

Faros / Ojos (Buscando la luz II)
Rrose Present

digital , color, sound, 3.4 min

Rental format: Digital file

Philosophical
Personal / Diary / Journal

Read More

ARTificial (R)evolución
Rrose Present

digital , color, sound, 3.46 min

Rental format: Digital file

Philosophical
Personal / Diary / Journal

Read More

Trazos de tiempo (Strokes of time)
Rrose Present

16:9 digital, color, sound, 5 min

Rental format: Digital file

Philosophical
Biography / Autobiography
Personal / Diary / Journal

Read More

Exorcise memories image
Rrose Present

digital, color, sound, 5.42 min

Rental format: Digital file

Personal / Diary / Journal