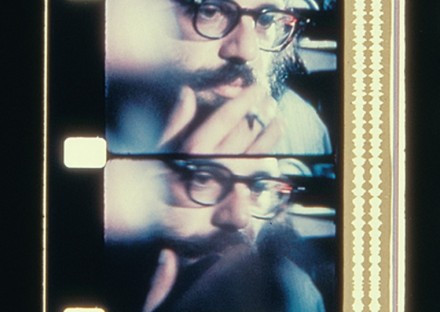 Walden: Reel 3
16mm, color, sound, 49 min
Filmed in 1964-68. Edited in 1968-69. "Barabara Rubin shoots a movie; Christmas Eve; A visit to Brakhages (Colorado); A Visit to Hans Richter; In Central Park; Peter's Wedding."
Rental format: 16mm
Programs
See More

The Film-Makers' Cooperative x The Brooklyn Rail Holiday Screening Series

Two films by Jonas Mekas, plus the Women/Artist/Filmmakers, Inc. program

From Friday, December 23rd, 2022 to Thursday, January 5th, 2023, the Film-Makers' Cooperative is collaborating with the wonderful folks at The Brooklyn Rail for a Holiday Screening Series!
Films
Other films by this artist in our catalogue

Read More

Guns of the Trees
Jonas Mekas

16mm, black and white, sound, 75 min

Rental formats: 16mm, 35mm, DVD PAL

Psychology / Mental Health

Read More

Film Magazine of the Arts
Jonas Mekas

16mm, color, sound, 20 min

Rental format: 16mm

Arts / Artists

Personal / Diary / Journal

Read More

Visions of Warhol
Jonas Mekas

black and white, silent and sound, 56 min

Rental format: DVD PAL

Read More

Award Presentation to Andy Warhol
Jonas Mekas

16mm, black and white, sound, 12 min

Rental format: 16mm

Read More

The Brig
Jonas Mekas

16mm, black and white, sound, 68 min

Rental formats: 16mm, DVD PAL

Political / Social Activism

Literarature / Theater

Beat Era

Read More

Jonas Mekas Box Set
Jonas Mekas

color and b/w, sound, 900 min

Rental format: DVD PAL

Arts / Artists

Biography / Autobiography

Personal / Diary / Journal

Read More

Report From Millbrook
Jonas Mekas

16mm, color, sound, 12 min

Rental format: 16mm

Personal / Diary / Journal

Read More

Cassis
Jonas Mekas

16mm, color, sound, 4.5 min

Rental format: 16mm

Landscape / Architecture

Personal / Diary / Journal

Read More

Hare Krishna
Jonas Mekas

16mm, color, sound, 4 min

Rental format: 16mm

Arts / Artists

Personal / Diary / Journal

Spiritual / Mystical

Beat Era

Read More

Notes On The Circus
Jonas Mekas

16mm, color, sound, 12 min

Rental format: 16mm

Read More

The Italian Notebook
Jonas Mekas

16mm, color, silent, 14.75 min

Rental format: 16mm

Personal / Diary / Journal

Read More

Time & Fortune Vietnam Newsreel
Jonas Mekas

16mm, color, sound, 4 min

Rental format: 16mm

Political / Social Activism

Read More

Walden: Reel 1
Jonas Mekas

16mm, color, sound, 43 min

Rental format: 16mm

Personal / Diary / Journal

Read More

Walden
Jonas Mekas

16mm, color, sound, 180 min

Rental format: 16mm

Personal / Diary / Journal

Read More

Walden: Reel 4
Jonas Mekas

16mm, color, sound, 45 min

Rental format: 16mm

Personal / Diary / Journal

Read More

Walden: Reel 2
Jonas Mekas

16mm, color, sound, 40 min

Rental format: 16mm

Personal / Diary / Journal

Read More

Reminiscences of a Journey to Lithuania
Jonas Mekas

16mm, color, sound, 82 min

Rental formats: 16mm, Digital file

Read More

Lost, Lost, Lost: Reel 6
Jonas Mekas

16mm, color and b/w, sound, 27 min

Rental format: 16mm

Personal / Diary / Journal

Read More

Lost, Lost, Lost: Reel 5
Jonas Mekas

16mm, color and b/w, sound, 29 min

Rental format: 16mm

Personal / Diary / Journal

Read More

Lost, Lost, Lost: Reel 4
Jonas Mekas

16mm, color and b/w, sound, 25 min

Rental format: 16mm

Personal / Diary / Journal

Read More

Lost, Lost, Lost: Reel 2
Jonas Mekas

16mm, color and b/w, sound, 30 min

Rental format: 16mm

Arts / Artists

Personal / Diary / Journal

Read More

Lost, Lost, Lost
Jonas Mekas

16mm, color and b/w, sound, 178 min

Rental format: 16mm

Personal / Diary / Journal

Read More

Lost, Lost, Lost: Reel 1
Jonas Mekas

16mm, color and b/w, sound, 32 min

Rental format: 16mm

Arts / Artists

Personal / Diary / Journal

Read More

Lost, Lost, Lost: Reel 3
Jonas Mekas

16mm, black and white, sound, 35 min

Rental format: 16mm

Arts / Artists

Personal / Diary / Journal

Read More

In Between: 1964-68
Jonas Mekas

16mm, color, sound, 52 min

Rental format: 16mm

Read More

Notes For Jerome
Jonas Mekas

16mm, color, sound, 45 min

Rental formats: 16mm, DVD NTSC

Read More

Paradise Not Yet Lost (a/k/a Oona's Third Year)
Jonas Mekas

16mm, color, sound, 96.5 min

Rental format: 16mm

Personal / Diary / Journal

Read More

Scenes of the Life Of Andy Warhol
Jonas Mekas

16mm, color, sound, 36 min

Personal / Diary / Journal

Read More

Cup/Saucer/Two Dancers/Radio
Jonas Mekas

16mm, color, sound, 23 min

Rental format: 16mm

Read More

Street Songs
Jonas Mekas

16mm, black and white, sound, 10.5 min

Rental format: 16mm

Political / Social Activism

Literarature / Theater

Read More

He Stands in a Desert Counting the Seconds of His Life
Jonas Mekas

16mm, color, sound, 150 min

Rental format: 16mm

Personal / Diary / Journal

Read More

Mob of Angels: Baptism
Jonas Mekas

color, sound, 61 min

Rental format: DVD NTSC

Music

Personal / Diary / Journal

Read More

The Sixties Quartet
Jonas Mekas

color, sound, 129 min

Rental format: DVD PAL

Arts / Artists

Personal / Diary / Journal

Read More

Zefiro Torna or Scenes From the Life of George Maciunas
Jonas Mekas

16mm, color, sound, 35 min

Rental format: 16mm

Read More

Imperfect 3-Image Films
Jonas Mekas

16mm, color, silent, 4 min

Rental format: 16mm

Personal / Diary / Journal

Read More

Happy Birthday to John
Jonas Mekas

color, sound, 24 min

Rental format: 16mm

Arts / Artists

Personal / Diary / Journal

Read More

Birth of a Nation
Jonas Mekas

color, sound, 85 min

Rental formats: 16mm, DVD NTSC

Films About Film

Arts / Artists

Personal / Diary / Journal

Read More

Notes on the Factory
Jonas Mekas

color, sound, 63 min

Rental formats: DVD NTSC, DVD PAL

Arts / Artists

Biography / Autobiography

Personal / Diary / Journal

Read More

This Side of Paradise
Jonas Mekas

color and b/w, sound, 35 min

Rental format: 16mm

Personal / Diary / Journal

Read More

A Letter to Penny Arcade
Jonas Mekas

color, sound, 15 min

Rental format: DVD NTSC

Biography / Autobiography

Personal / Diary / Journal

Read More

Diary Entry: Father and Daughter
Jonas Mekas

color, sound, 3 min

Rental format: DVD NTSC

Personal / Diary / Journal

Read More

Williamsburg, Brooklyn
Jonas Mekas

color and b/w, silent, 15 min

Rental format: 16mm

Landscape / Architecture

Personal / Diary / Journal

Read More

Notes on Utopia
Jonas Mekas

color, sound, 55 min

Rental format: DVD PAL

Biography / Autobiography

Personal / Diary / Journal

Read More

Lithuania and the Collapse of the USSR
Jonas Mekas

color, sound, 286 min

Rental format: DVD NTSC

History

Political / Social Activism

Personal / Diary / Journal

Read More

Sleepless Nights Stories
Jonas Mekas

color, sound, 114 min

Rental formats: DVD NTSC, DVD PAL, Digi Beta PAL

Arts / Artists

Personal / Diary / Journal

Read More

Reminiszenzen aus Deutschland
Jonas Mekas

color, sound, 22 min

Rental format: DVD NTSC

History

Personal / Diary / Journal

Read More

Out-Takes from the Life of a Happy Man
Jonas Mekas

color, sound, 68 min

Rental format: DVD NTSC

Biography / Autobiography

Family

History

Personal / Diary / Journal